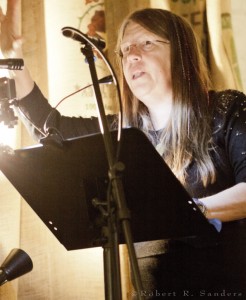 Upcoming Readings
September 21, 2017 Thursday, at Backstory Books as part of the "Fo Po" series, 6010 SE Foster, 7pm
The Studio Series: Poetry Reading and Open Mic will feature Tricia Knoll and Amanda Turner at Stonehenge Studios, 3508 SW Corbett Avenue, Portland  97239 on October 8 from 7:00 to 9:00 p.m. 
News – You can now order Broadfork Farm  from The Poetry Box and Amazon. It will ship after July 12. This is love poetry about a small family-owned organic farm in Trout Lake, Washington
Knoll's favorites of her recent online publications which are tending toward the political. For a complete list of online poems.
"Solar Eclipse Glasses" on Visitant on August 21, 2017
A reprint from my chapbook Urban Wild (Finishing Line Press) on Nature Writing, August 3, 2017, "Isolde on the Shoulder of St. Andrew" 
Find three poems in the August issue of Full of Crow:  "Plea to the Power That Is", "Buddha's Stallion and the Woman Who Married Wallace Stevens," and "The History of Shadows."
"For a Perfect Catch, Fishmongers Go For Halibut" in July 2017 issue of The Cirque Journal -A Literary Journal of the North Pacific Rim. See page 84.
"All I Am" on Verse Virtual, June 2017
_________________________________________
Tricia Knoll has been writing poetry since the age of 12. She began submitting poetry for publication eight years ago, after retiring. Six poems have been nominated for a Pushcart Prize.
Her first published poem was in 1970. Then for nearly 40 years, she wrote to earn a living. When she retired, she began to submit poetry to journals. More than 100 of her haiku and poems have appeared in online or print journals and poetry anthologies since then. Her poetry chapbook Urban Wild was released from Finishing Line Press in May 2014 and the book Ocean's Laughter in 2016. Broadfork Farm will be available through Amazon and the Poetry Box in late July 2017.
Described in bytes: Mother, wife, feminist, hula hooper, dancer, weight lifter, runner, Master Gardener. She writes eco-poetry, lyric and narrative poetry and haiku. In 2015 Tricia wrote her thoughts on feminism for The Persimmon Tree Journal and in 2016 a contribution to Trish Hopkinson's blog  on why she regrets waiting until after retirement to begin writing  seriously.
Eco-poetry? Poetry  that highlights  connectedness in nature, responsibility to care for the world we've been given, help to remember what we have lost – and encourages holding up hope for doing no more harm. Tricia is pleased to have several poems published in Written River – A Journal of Eco-Poetics and other journals focused on eco-poetry.
Pushcart Nominations 2016: Thank you, Gyroscope Review, for the 2016 Pushcart Nomination of "Amazing Grace – Performed More Than Ten Million Times a Year."  (On page 18). And thank you to the editors of Glint for nominating "California Sycamore."  The editors of Visitant also have nominated For Better or Worse.