Tricia's new chapbook is Let's Hear It for the Horses placed third in The Poetry Box's 2021 chapbook competition. It is now available at the link to The Poetry Box and on Amazon.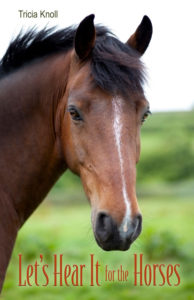 Humans and horses have lived in harmony for thousands of years. Let's Hear It for the Horses, collects love poems, elegies and narratives to explore why these elegant creatures have been the stuff of myth, metaphor, and movies for generations.
For pre-publications reviews, a picture of the poet horseback in a horse show in Estes Park, Colorado as a young girl, and sample poems visit the publisher's website.
The publishing press, The Poetry Box, recorded a poetry reading on YouTube that included Knoll reading from Let's Hear It for the Horses in January, 2022.