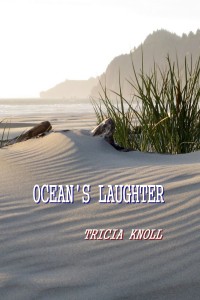 Ocean's Laughter (Aldrich Press) is available on Amazon.
Carpe Noctem's author interview about Ocean's Laughter posted 3-14-16
Review Carolyn Martin's review of Ocean's Laughter on the Oregon Poetry Assocation website (April, 2016)
Sample poems:
If I Could Come Back" reprinted on Silver Birch Press, October 2016
Advance reviews
 Naomi Shihab Nye:  "All precious places on this planet should have an advocate such as Tricia Knoll. Here the rich motions of the Oregon coast come to life within and around the watchful mind of a twenty-five year resident. The mixed particulars of human presence, the mysteries of environmental fragility and strength, awaken and abide in these calmly visionary, crucial poems."
Robert Michael Pyle, author of Evolution of the Genus Iris: Poems, and Wintergreen: Rambles in a Ravaged Land: "When it comes to books that catch the light, the misty visage, and all the moods of the Oregon Coast just right, I think of Don Berry's Trask, Ursula LeGuin's Sea Road, and Brian Doyle's Mink River. Now joining them comes The Ocean's Laughter. I'll never be able to peer down over Manzanita again, or even think of village and surf and beach life on this enchanted shore, without Tricia Knoll's poems flooding welcomely to mind. Elegant poems of wit and whimsy, of finding and losing and what remains, these lines seem to have come ashore with the blue-green glass and the sanderlings, fully formed and ready to be found, instead of the hard work they really were. As the poet writes, "the fog smells of fir needles," and so do these words themselves. Through Ms. Knoll's living and watching, and finally her writing, The Ocean's Laughter becomes our own."
Bill Siverly, author of Steptoe Butte – " Human life happens somewhere, and Tricia Knoll has given eloquent and realistic insight into a place called Manzanita, a small town on the Oregon Coast.
Only a resident could interpret so deeply the birds, the sea-creatures of every kind, the wilderness of the shoreline, the great mystery of the moving zone between ocean and land. People, both local and visiting, intimate and stranger, inhabit this book like a town. The poet herself is present in every line, showing us around. To read this book is to be immersed in daily life, seen for what it is: full of shadow and light, gulls eating gulls, the abandoned toy shovel claimed by the water, the ever-present reminder of Fukushima tsunami debris washed ashore, and the sunset's "luxury of liquid flame." In the end we are as sad as the poet to leave a place we have come to know so well."
Chris Maser – research scientist in natural history and ecology (including ocean environments): "Tricia Knoll beautifully captures the interacting, biophysical processes that interweave life into the tapestry wherein everything is connected to everything else in a cosmic dance of eternal change, eternal becoming, eternal novelty. Ocean's Laughter is ever creative as it explores different aspects of our human experience."
Poet James E. Lewis on Verse-Virtual: New Mexico doesn't offer many chances to enjoy an ocean beach, so there were things I didn't know to expect when I visited the California coast. Like the differences in water temperature, depending on which beach I went to. The smell of the tidal zone. Humidity. Beach sand, which is very different than a high desert sand dune, or the fine powder that blows through every crack in an old house. Undercurrents, rip tides, rogue waves, driftwood. It was a new world for me, and I was absolutely seduced by it. And that is what Tricia Knoll's book "Ocean's Laughter" did to me as well.
Of course, the book is about the ocean, and in a very specific locale. But it is so much more than just engaging descriptions of the beach, the people, the neighboring mountain peak. It is the ebb and flow of life, the winds and waves that test us, that teach us caution, that make us stronger. Coast and ocean have a unique effect on our hearts and minds, and Tricia captures that perfectly in these lines from "Undertow of Spirit":
"This church of infinite outlooks,
sand, finite old-growth tidepools,
prayer flags on the mountain top,
rock cairns and bonfire rituals
is open day and night
washed in sea salt"
As I read through this captivating collection of poems, a certain image kept coming to mind. When I first went to a beach, I waded out to where the waves came to my knees, and just stood, taking in the sensations. And as every wave slid back into the ocean, it would pull some sand from under my feet, unsettling me slightly, challenging my balance, teasing me to try again.
Tricia's poems have that same effect on my mind. The easy waves of images flow in, pushing against my own experiences, making comparisons that are familiar and comfortable. And then, like the receding waves, the final stanzas pull a little sand out from under my feet in unexpected tugs that tell me there is more to think about, more to be considered, making me do a quick adjustment to stay upright. Teasing me to try again.
"Ocean's Laughter" is a collection that will stay with you long after first reading, like the background rhythm of waves on shore. No matter where you go, it calls you back, and back again.
Links to poems in Ocean's Laughter –