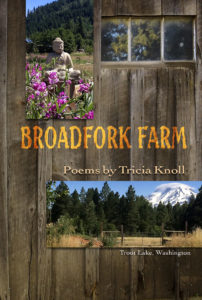 Knoll's collection Broadfork Farm is now available from The Poetry Box   and Amazon. Poetry about pigs, dogs, starry nights, predators and farmers on this small organic farm in Trout Lake, Washington. Knoll is a regular farmsitter on the property.
The Poetry Box nominated "The Chubby Buddhist Monk from Trout Lake Abbey" for a 2017 Pushcart Prize.
New review of Broadfork Farm by Sandra Knauf, editor of Greenwoman Publishing posted on Flora's Forum, January 2018.
Sample poems:
Reviews of Broadfork Farm – 
Tod Marshall, Washington State Poet Laureate:
At a glance, Broadfork Farm might seem a rustic homage to a simpler sort of life—and it is that—but the poems are rich with energies, convergences with and retreats from our cultural moment.  Subtly, the poems ask to engage with the realities of the farm—the violences of barnyard cats and dogs, the slaughter of lambs, the impact of a long drought—and to hold these in comparison and contrast with the banal forces of history: the brutal conquests of Native lands, terror attacks at home and abroad, a hate crime against a Buddhist monk "mistaken" for a Muslim.  Knoll is a skilled poet; "To Tuck in Barnyard Creatures" is one of many poems with a rich sonic texture that is both subtle and celebratory—sometimes it feels as if we're in the music of the farm, the songs of the roosters, the barking of the dogs, the rhythms of a different life.  By the end of the book, we are asked, perhaps, not only to see and hear "life on the farm" but to see and hear our own lives a little differently.  To put it more simply, like its namesake, the poetry of Broadfork Farm will "feed a few and teach caring"—and that's a tremendous accomplishment for a book of poems.
 Andrea Hollander,  author of Landscape with Female Figure: New & Selected Poems, 1982 – 2012 
For Tricia Knoll, writing poems is a way of participating in the everyday of what matters. While Broadfork Farm traces Knoll's experiences in the daily business and busyness at the eponymous farm, her articulate and carefully observant poems simultaneously present evidence of her deep ecological concerns and her compassionate embrace of our world and its human and nonhuman inhabitants. Open this book anywhere and feel the "rustles and wingbeats" of the wind on the farm, as well as Knoll's abundant gratitude for "what watches over."
Annie Lighthart, Author of Iron String (Airlie Press 2013) and Lantern (Wells College Press Fall 2017) 
To read Tricia Knoll's Broadfork Farm is to come to a gate and find that it opens for you. These aren't poems that stand and talk stiffly at the threshold; these are poems that welcome you into the farm and barn and pastures, poems that walk and work, that see, taste, and listen to this particular loved place. Knoll's poems inhabit the farm as vividly as the community of humans, spotted pigs, broody chickens, goats, and dogs that live there. They roost and burrow and take root. I find myself not so much reading these poems as sticking my head into each one like a bee in a flower, eager to see what is inside. I want to stay a long time in this book's marvelous pasture.